The Amsterdam Jiu Jitsu Camp is one of the most anticipated BJJ camps in Europe. The camp offers world class instructors with two sessions per day.
If you're looking for a once-in-a-lifetime euro trip, look no further than the Amsterdam Jiu Jitsu Camp 2022. This world-renowned camp in the heart of Amsterdam offers five days of NoGi jiu jitsu training, led by some of the most respected instructors in submission grappling.
Lineup for the 2022 Amsterdam Camp
The camp will officially start on Monday, August 15th 2022 with a five day duration. Each instructor brings something unique to the camp. You'll get to experience firsthand the techniques and concepts that have made the Amsterdam Jiu Jitsu Camp one of the most exciting BJJ camps in Europe.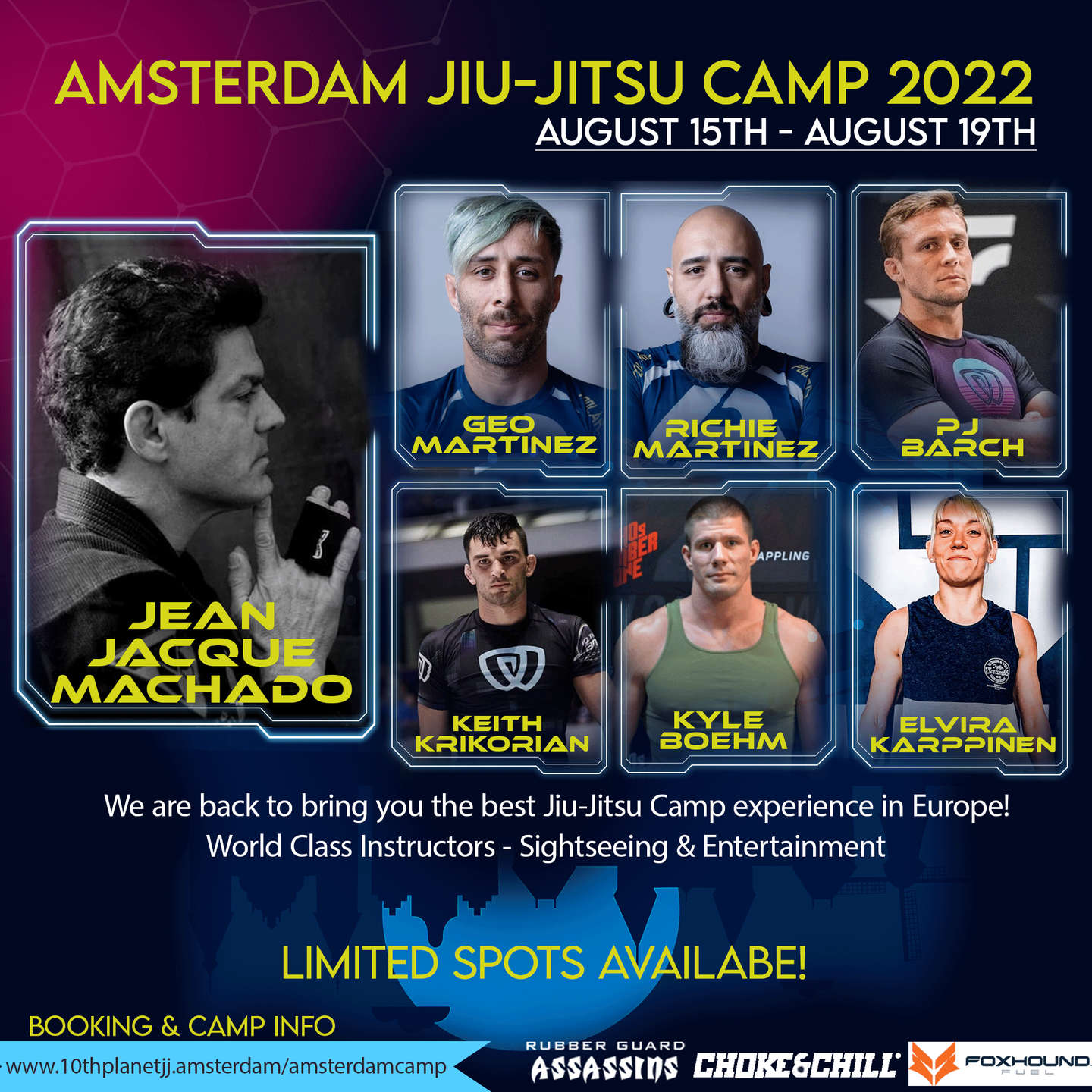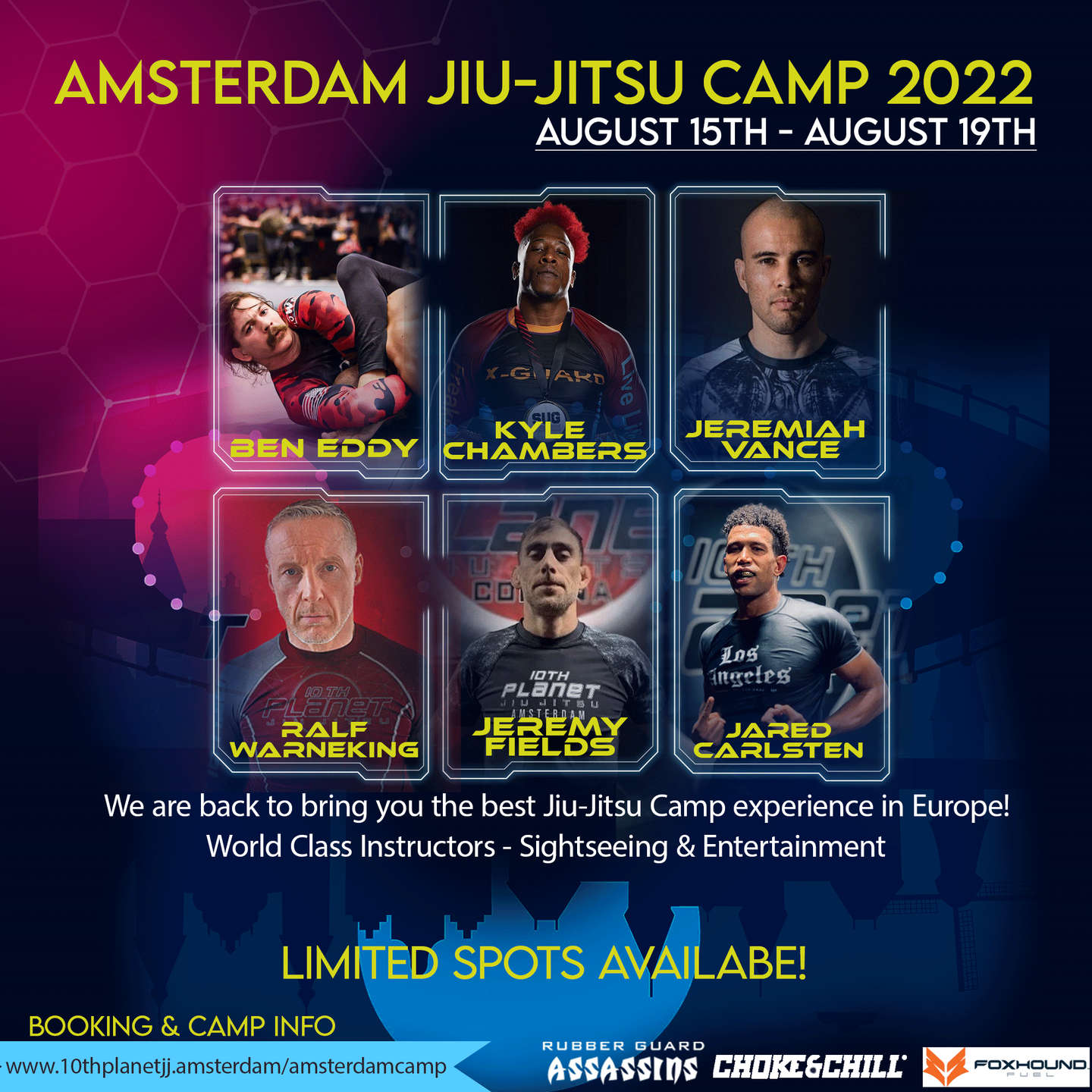 The lineup announced includes jiu jitsu legend Jean Jacque Machado, Rubber Guard Assassin Jeremiah Vance, Berlin's Ralf Warneking, ADCC North American trials gold medalist Kyle Boehm, Hindulotine creator Ben Eddy, Who's Number One finalist Kyle Chambers and more.
Finding the gym
The camp is located in the Amsterdam Training Center, which is just a 10-minute train ride from Amsterdam Centraal station. The facility has 100 square meters of mat space for grappling, so you'll have plenty of room to train.
Healthy food options around the location are limited, so make sure to plan accordingly as you'll be spending a lot of time in the area between training sessions.
Directions to the camp
The following transit lines have routes that pass near the Amsterdam Jiu Jitsu Camp.
Stops closest to the camp include: Spaklerweg, Overamstel, Amsterdam Amstel and Duivendrecht.

Planning your trip
Amsterdam is a world-class international transport hub and there are countless ways of getting into and around the city. Many travelers fly into Schiphol Airport, with all four arrival areas at the airport exiting into the Schiphol Plaza, where there is a wide range of shops and places to eat.
Other facilities within this area include ATMs as well as currency exchange counters. Access to the Schiphol Airport railway station and car hire desks can be found in Arrivals Area 3.
Getting around the city
If you're looking for a way to save money during the camp, consider purchasing the I amsterdam City Card. This card offers you unlimited use of GVB's services (the Dutch national rail company) on public transport such as metros, buses and trams and is available in 24, 48 or 72 hour cards.
Day cards can not be bought from the driver on the bus. Tickets are valid across the whole network from the first use, allowing you to take as many journeys as you choose within your chosen time-frame, but the cost of buying day cards over time is much higher.
Where to stay in Amsterdam
Amsterdam is a city of choices for every traveler. The camp has partnered with The Bulldog Hotel, which is located in one of Amsterdam's most cultural areas. With its location right outside Centraal Station, The Bulldog offers an international atmosphere surrounded by coffee shops and canals.
Historically, The Bulldog was the first coffeeshop in Amsterdam and is still owned by its original founder. But why did he use this term? While the term 'coffeeshop' as we know it today wasn't what most visitors came in search for, the founder saw an opportunity with something else entirely: his customers' need for socialization while drinking coffee.
The hostel offers its guests amenities including free WiFi and lockers. It also has an on-site laundry facility for those looking to wash their training gear.
Overall, if you're looking for an authentic Netherlands experience or just want to catch up on some Dutch culture, there is a lot to explore in and around The Bulldog that will make your stay worthwhile.
Ticket Costs
Full Camp Only
€875.00 + €0.00 booking fee
Day Passes
€175.00 + €5.00 booking fee
Day pass Ticket Does not include Jean Jacque Machado's Seminar
Jean Jacque Machado Seminar
€200.00 + €5.00 booking fee

Whether you're a seasoned grappler or a complete white belt, the camp is sure to provide an unforgettable experience. See you there!